Reputed Cleaning Companies
My idea of housework is to sweep the room with a glance. Housekeeping and cleaning are dedicated chores for some people while for few others it is not a very desirable job. Maintenance of the place we live and work are essential to ensure healthy living. Previously house keeping was done with great care spending ample time. But in recent times people have lost interest and also have forgotten the importance of proper cleaning and housekeeping.
Professional cleaning services are a budding business which is becoming more lucrative and resourceful. Both residential and commercial buildings are in need of professional help in cleaning and maintenance. But there are numerous agencies running these kinds of cleaning companies and it becomes difficult to choose a reputable one. Many people start this kind of a business and we cannot expect good quality products, equipment and service from amateurs. But certain people, who have great experience in this field, have a very good range cleaning solutions and products and high class equipments. Such industry experts can provide excellent, sparkling outputs in commercial buildings and offices.
Places like hospitals have to have to be kept spotless both on the outside and inside. These places are prone to spread infections and other kind of flu and have to be cleaned at high frequencies. Even schools, offices, malls, stores, commercial buildings and parking lots have to be kept clean. Professional cleaning services come in handy in these areas as these places need to be cleaned only in the evenings after the regular working hours.
Professional Cleaning Companies
The biggest worry about hiring professional cleaning services is that they need to be reliable enough to explore your house and office completely. There is no place which cannot become dirty and you need to let the cleaning service agent explore all of those intimate places at home. Most agencies screen their employees and do a background and drug test on them before hiring but it always helps to be more careful. This is one means of knowing that the company is reputable. Another is word of mouth. Ask your friends and family what services they use and whether they are reputable. Check with your local business bureau to know if there has been any complaint lodged against the company. Also check your local Craigslist board, for that is where you can find good and bad reviews to help you choose a reputable commercial cleaning company. The name that the company has established in the industry says much for their credibility- which is what we take great pride in at Office Cleaning Lady.
Professional cleaning service can brighten up your living and working space but choosing the right company can be a bit nerve wrecking. With a little bit of research and carefulness you can hire the best cleaning company and benefit greatly.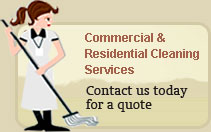 We also do Residential Cleaning
Articles
Servicing The Areas Of:
Auburn
Cressona
Frackville
Minersville
Orwigsburg
Pine Grove
Port Carbon
Pottsville
Saint Clair
Schuylkill Haven
Schuylkill County