Commercial Cleaning Services
Cleanliness is next to impossible. This is the idea most of us have developed over the recent years. But the scenario was very different some decades before. Cleaning, maintaining and housekeeping were considered primary activities at homes and offices too. Commercial places like offices, retail stores, malls and more importantly schools and hospitals need to be kept spotless and bacteria free every passing day. It is not practically possible to do the cleaning efficiently by yourself for such large areas regularly. This is when commercial cleaning services come to your rescue.
The first advantage of employing a commercial cleaning service for your office or work area is that, cleaning activities need to be done after the regular working hours in such places and that will be taken care of automatically. Making a good first impression on your clients and those who visit your office to finalize business deals is very essential. This does not apply only to hospitals but to all official buildings but hospitals require to be disinfected almost all day. You can employ a commercial cleaning agency either for a one time service or on contract basis for cleaning regularly. They have the best equipment you can find for these purposes and handle them in a fashion we amateurs can never imagine. Their services will include porter services, common area and brass cleaning, carpet shampooing, trash removal, pressure washing, awning cleaning, flood restoration, painting and most importantly snow removal.
Hire a Commercial Cleaning Service
Cleaning may seem like a very generic term for people who know little about it. Only when you hire a commercial cleaning agency will you know the wide range of activities involved. Every inch of your office from the reception to the rest rooms should be sparkling clean and once you outsource the job to the expert you have nothing to worry. Kitchen cleaning, surface dusting, stair and elevator cleaning, vacuuming, floor care and disinfecting restrooms, doorknobs, phones and switch plates are all various aspects of commercial cleaning which we never think of. When you hire a reputed cleaning service company or a popular one of your local area, you need not worry about safety measures you need to take when the cleaning activity is underway. These companies do a thorough back ground check of all their employees to maintain their reputation.
It is best to outsource cleaning and maintenance activities of your office or workspace to expert commercial cleaning service companies as this is very affordable and lets you concentrate on your business without having to worry about it.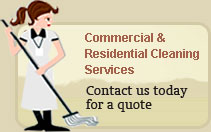 We also do Residential Cleaning
Articles
Servicing The Areas Of:
Auburn
Cressona
Frackville
Minersville
Orwigsburg
Pine Grove
Port Carbon
Pottsville
Saint Clair
Schuylkill Haven
Schuylkill County