House Cleaning
In today's fast paced society it is hard to find the time to clean the house. Because of this, more and more homeowners are turning to Office Cleaning Lady to care for their home. Office Cleaning Lady provides house cleaning services to homeowners that are concerned about the well fare of their home. We provide environmentally friendly products and highly trained cleaning specialist that will ensure that you home is left in the highest standards in the industry, ensuring its health and yours.
The "Pros" of a house cleaning service, such as, Office Cleaning Lady are:
Peace of Mind: Office Cleaning Lady will provide a professional, trustworthy team of experts in the cleaning industry ensuring that the heavy housework is completed as well as the light.
Free Time: Office Cleaning Lady will do all the work, allowing you spare time. This is a luxury to all those that know the tedious chore of house cleaning and the time that it consumes.
Environmentally Healthy: Office Cleaning Lady will leave your home clean- this ensures that your living environment is a clean and healthy environment. There's no Getting your Hands
Dirty: We do all the scrubbing and all the work, so there is no need for you to put on your rubber gloves and spend a Sunday scrubbing your toilets and tubs.
Savings: Office Cleaning Lady is affordable. And, we provide the cleaning supplies, making your grocery bill less each month.
Reliability: Office Cleaning Lady is reliable. We are one of the most trusted house cleaning services in the industry. Regularity: We will schedule weekly, biweekly, monthly or "on request" cleaning ensuring that your home is well maintained.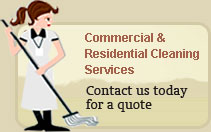 We also do Residential Cleaning
Articles
Servicing The Areas Of:
Auburn
Cressona
Frackville
Minersville
Orwigsburg
Pine Grove
Port Carbon
Pottsville
Saint Clair
Schuylkill Haven
Schuylkill County