Modern Housekeeping
Housework is something you do that nobody notices until you don't do it. This is one of the best explanations of what housekeeping is all about. We all have a different notion of housekeeping. For some, it is a clear memory of their perfect childhood home while some refute the fact that only women were associated with it. Few people even look at it as something unnecessary to be done with so many critical things left to do while few consider it a dedicated chore. But there is more to the art of housekeeping.
Cleaning is the first step in efficient housekeeping. There are three main categories namely maintenance, thorough and seasonal cleaning. For any type of cleaning it is essential that you have the right variety of supplies and a proper schedule in place. The cleaning supplies list will vary from home to home depending on their lifestyle and family. Micro fiber cloths and dust mops, vacuum cleaner, dusting spray and furniture polish are all widely used and the frequency depends on your house's decor and any breathing or allergic issues in the family. Trash cans, can liners and recycling bins with sorting labels are all default components which should be there in any home. There is no spot in a house which will not become dirty. All purpose, kitchen and bathroom cleaners, sponges, paper towels, scrubbers and gloves are the recommended cleaning tools.
Modern homes are full of electric appliances and novel devices. These are also to be cleaned properly and maintained well to ensure efficient functioning. This is called modern housekeeping. Electric heaters, cookers, grillers, hot plates, food warmers, coffee pots, electric toasters, the chafing dish, omelet dish, egg boiler and many more electric gadgets have simplified life so much. The longevity of these appliances largely depends on how well we maintain these devices.
Housekeeping Myths
There are myths related to modern housekeeping which keeps people worried every time a cleaning activity is in progress. Professional carpet cleaning is a very safe option and carpet shrinkage after cleaning is a very rare possibility. Many reputed companies are well equipped to clean carpets made of any fiber material without causing shrinkage. There are also new aroma techniques which freshen up the air inside your house and the best part is that they look decent and cute in their appearance too. Even doing laundry can be simplifies by sorting the clothes, setting the proper temperature and checking for stains prior to the washing process.
Whether you choose to do it yourself or employ a home cleaning service, housekeeping is a job that needs to be done with lot of patience and care. After all, your house is made of things bought and gifted with great love and care and it is your responsibility to make living happy and healthy for your family.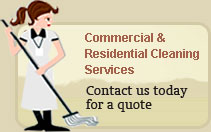 We also do Residential Cleaning
Articles
Servicing The Areas Of:
Auburn
Cressona
Frackville
Minersville
Orwigsburg
Pine Grove
Port Carbon
Pottsville
Saint Clair
Schuylkill Haven
Schuylkill County